Guide to Local NHS Services
Sometimes it's hard to know what NHS service to use for your illness or injury so Cambridgeshire & Peterborough CCG have put together a short guide to help: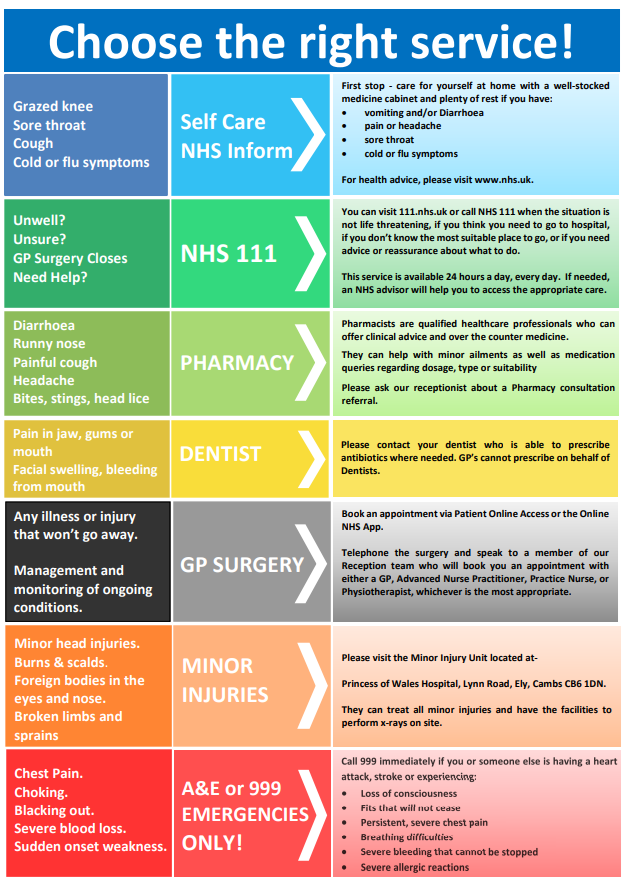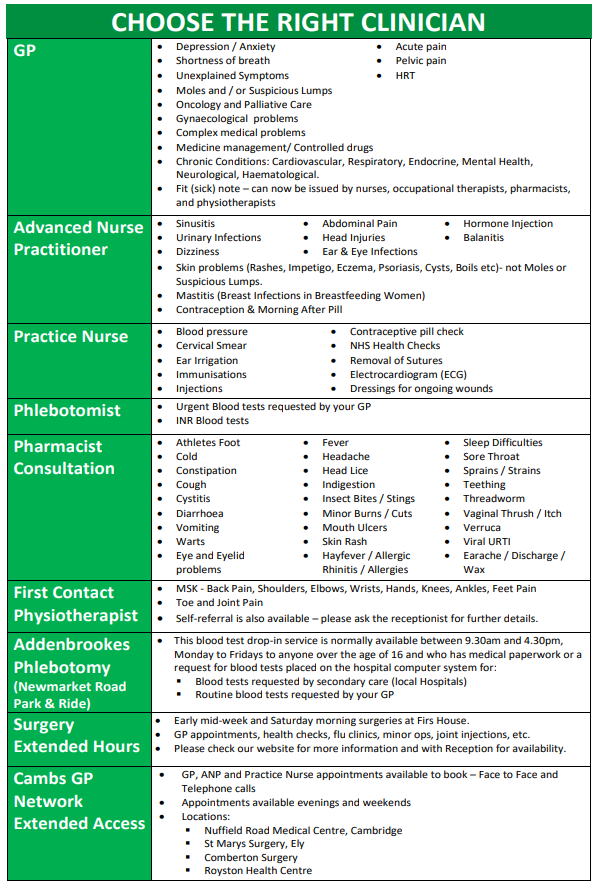 NHS 111
NHS 111 can help you if you need medical help or advice urgently but it's not a life-threatening situation. Open 24/7, 365 days a year, NHS 111 connects you to a team of fully trained call advisers who are supported by experienced nurses, paramedics, and GPs. They will ask questions to assess the symptoms, and give healthcare advice or direct you to a local NHS service. If necessary, they can also call an ambulance or direct you straight to A&E.
Calls to NHS 111 are free from a landline or mobile phone. Just dial 111 or go to 111 Online.
Pharmacies
Local pharmacies can offer expert advice and treatment for a wide range of common conditions and minor injuries. They can help with a range of things including aches, hangovers, headlice, worms, thrush, insect bites, fungal nail infections, hayfever, colds, emergency contraception, and non-prescription medication. You can also buy your own over the counter medication to save yourself a trip to your GP and save the NHS money!
General opening times for pharmacies can be found HERE.
GPs - any illness or injury that won't go away
Here at Firs House we have a team of Clinicians made up of GP's, Advanced Nurse Practitioners, Nurses, Healthcare Assistants and Phlebotomy, who are able to help you with a number of issues including persistent illnesses or injuries, advice on health problems, examinations and treatment, prescriptions for medicines, and referrals to other health services.
Before you book an appointment with a GP please use the guides below to assess whether an appointment with an Advanced Nurse Practitioner or other Clinician or service might be more appropriate. Firs House have two Advanced Nurse Practitioners, Alice and Marie, and they can help you with a wide range of medical problems and issue prescriptions.
Please call our Receptionists who can help you decide the most appropriate person for you to see.
When your GP practice is closed at the weekends or evenings, you can still see a GP. Contact the GP out-of-hours service by calling NHS 111. The NHS 111 team will assess your condition over the phone and if they think you need to be seen by a health professional, they will refer you to the out of hours GP service.
Minor Injury Units and Urgent Treatment Centres
Minor Injury Units (MIU) and Urgent Care Centres (UTC) can treat a range of minor illnesses and injuries such as sprains and strains, broken bones, minor burns and scalds, minor head and eye injuries, bites and stings and sports injuries.
No appointment required!
•Peterborough Urgent Treatment Centre is on Thorpe Road in Peterborough. It is open every day from 8am to 8pm.
•Ely Minor Injury Unit, Princess of Wales Hospital, Lynn Road, Ely, Cambs CB6 1DN.
•Doddington Minor Injury Unit, Benwick Road, Doddington, Cambs PE15 0UG.
•North Cambs Hospital Minor Injury Unit, The Park, Wisbech, Cambs PE13 3AB.
Further information is available HERE.
Minor Eye Conditions Service
What is a Minor Eye Conditions Service (MECS)?
The MEC service treats conditions which do not necessarily need specialist hospital examinations, in convenient locations for the patient, and is carried out by specially trained Optometrists. You may contact the participating Optometry Practice of your choice and they will offer you their earliest MEC appointment, which will be within a week of you contacting them or they will direct you to another participating Practice.
Conditions that can be seen under within the service include:
•Acute* red eyes;
•Acute* irritated or inflamed eyes;
•Sticky discharge or acute* watery eyes;
•In-growing eyelashes;
•Foreign bodies in the eye – urgent conditions will be redirected to A&E if treatment is required in under 24 hours;
•Recently occurring flashes or floaters.
*An acute condition is one with a sudden onset. If you have had the condition for many weeks and months it is called a chronic condition and you should discuss this with your regular optometrist or GP, in the first instance.
For more information and find the nearest service to you, click HERE.
Self Care
Many minor illnesses can be treated at home with basic medicines that are available from your local pharmacy. Stocking up on essential medicines can help you avoid a trip to the GP or even A&E. Medicine cabinet essentials include:
•painkillers such as aspirin, paracetamol, and ibuprofen
•anti-diarrhoea tablets and rehydration powders
•indigestion treatment
•bandages and plasters
•antiseptic cream or spray
•first aid kit
Mental Health – 111 option 2
If you're in Cambridgeshire and Peterborough there's a service which gives those in mental health crisis the opportunity to get access to help quickly, by calling NHS 111 and selecting option 2*. The new service allows patients or carers to speak to specially-trained mental health staff who can provide advice, support, and signposting to other services. The service is available 24/7, 365 days a year. Click HERE for further information.
Calls to NHS 111 are free from a landline or mobile phone.